FOOD WITH PERSONALITY
DELIVERED BY PEOPLE WITH PASSION.
THE CONCEPT
LOCAL, ORGANIC-WHENEVER-POSSIBLE, DOWNRIGHT-DELICIOUS FOOD, SOURCED FROM PEOPLE WE KNOW AND TRUST. IT'S THAT SIMPLE
We opened our doors with one simple goal: to provide our community dishes full of personality in a space that never takes itself too seriously–one that's chock-full of energy, life and growling stomachs.
Whether you're swinging by to grab a box of our house-made French macarons and a latte to-go, sitting down for a warm plate of short-rib hash with soul like you've never tasted, or stopping in on a Saturday for bottomless mimosas and brunch specials that change every single weekend, CRAFTkitchen is your place.
THE STORY
A FAMILY OF CHEFS WITH A DREAM, WHO DITCHED THE FIVE-DIAMOND LIFE TO CREATE A KITCHEN THEY COULD CALL THEIR OWN.
CRAFTkitchen's Chef Jaret Blinn lives by the golden rule of eats: feed people how you would want to be fed. An awarded pastry chef with two decades of experience in the kitchen at Ritz-Carltons in Maui, San Francisco and Lake Las Vegas (before becoming Executive Pastry Chef at Le Cirque and Circo at Bellagio and, later, at Red Rock Resort), Chef Jaret eventually decided to take his favorite leap of faith yet: he left the Five-Diamond world behind in order to create a kitchen of his own where he was free to do one thing—play. Chef Jaret and his family opened CRAFTkitchen in October of 2015 and have been feeding locals and visitors to the Las Vegas Valley ever since.
Phone
(702) 728-5828
Location
10940 S. Eastern Avenue, Suite 107
Henderson, NV 89052
Cross Streets: Eastern & Sunridge Heights
Hours
Mon-Fri 7:30a–3p
Sa-Su 7a–3p
HOLIDAY Hours
Closed Thanksgiving
Closed Christmas Day
RESERVATIONS
For parties of 8+ only. View Private Dining for more info.
BAKERY
BECAUSE LIFE SHOULD BE SWEET...AND BUTTERY...AND FLAKY.
Our culinary background lies in making pastries from scratch, so baked goods just seem to hold a special place in our hearts. Whether you need a custom cake for an upcoming event, an assortment of mini desserts for that party you're heading to, or simply a warm loaf of bread for dinner tonight, our bakery can CRAFT anything you can think of. Swing by or contact us to chat about your custom or bulk order.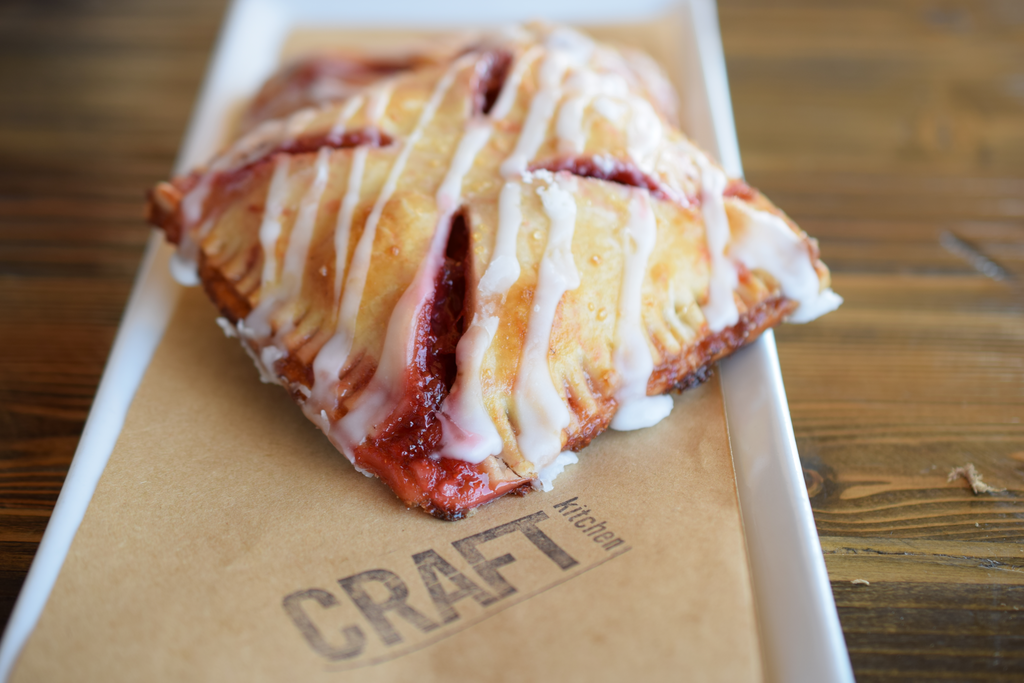 LAS VEGAS PRIVATE DINING
PERFECT FOR TEAM MEETINGS, SMALL CELEBRATIONS & INTIMATE GET-TOGETHERS.
We gladly accept reservations for parties of 8 or more for our Las Vegas private dining room. Fill out the form below to contact us regarding your private-dining needs and a team member will contact you within 24 hours for reservation availability.
(Please note a $50 credit card fee will later apply only for the event of a no-show or a last-minute cancellation.)
BUYOUTS
THERE'S NOTHING WE LOVE MORE THAN A GOOD PARTY.
In addition to our private dining room, we offer complete buyouts of our entire space and are happy to work with you to CRAFT a custom menu completely unique to your event. Floral and décor is also available at an additional cost.
To get the party started, fill out the form below.
CATERING
We offer catering services across the Las Vegas Valley. Our entire catering menu (including our breads) is made in-house, from-scratch. We use grass-fed meats, non-gmo ingredients and organic when available. Ask us about modifications for food allergies and diet restrictions. Gluten-free bread is available for an additional charge. Contact us for catering menu pricing information.
CATERED BREAKFAST PACKAGE
BREAKFAST PACKAGE INCLUDES:
-Selection of housemade breakfast pastries.
-Seasonal fresh fruit platters.
-Greek yogurt parfait cups (fresh fruit compote, house made almond granola.)
-House-made ciabattini sandwiches (cage-free egg, tillamook cheddar, thick apple wood smoked bacon, Niman ranch ham.)
*Vegetarian substitution option available – roasted vegetable fritata on ciabattini, provolone cheese.
OTHER CATERED BREAKFAST OPTIONS, NOT INCLUDED IN BREAKFAST PACKAGE PRICING:
-Chorizo, egg, spiced potato breakfast burrito
-½ pan Monkey bread (serves approximately 12-15)
-Mini Seasonal Vegetable (chef's choice) or Niman Ranch Ham Quiche Bites (minimum order 1 dozen).
-8" Large Quiche (seasonal vegetable—chef's choice—or Niman ranch ham quiche, serves approximately 8.)
*Gluten-free options available.
CATERED COFFEE & TEA
1 box of regular organic coffee, serves 10-12 small cups.
1 box of decaf coffee, serves 10-12 small cups.
1 box of hot water with assorted tea bags, serves, 10-12 small cups.
Thank you for considering CRAFTkitchen for your Henderson and Las Vegas catering needs!
Contact us to get started planning your catered affair.
in the News
BROWSE OUR MEDIA MENTIONS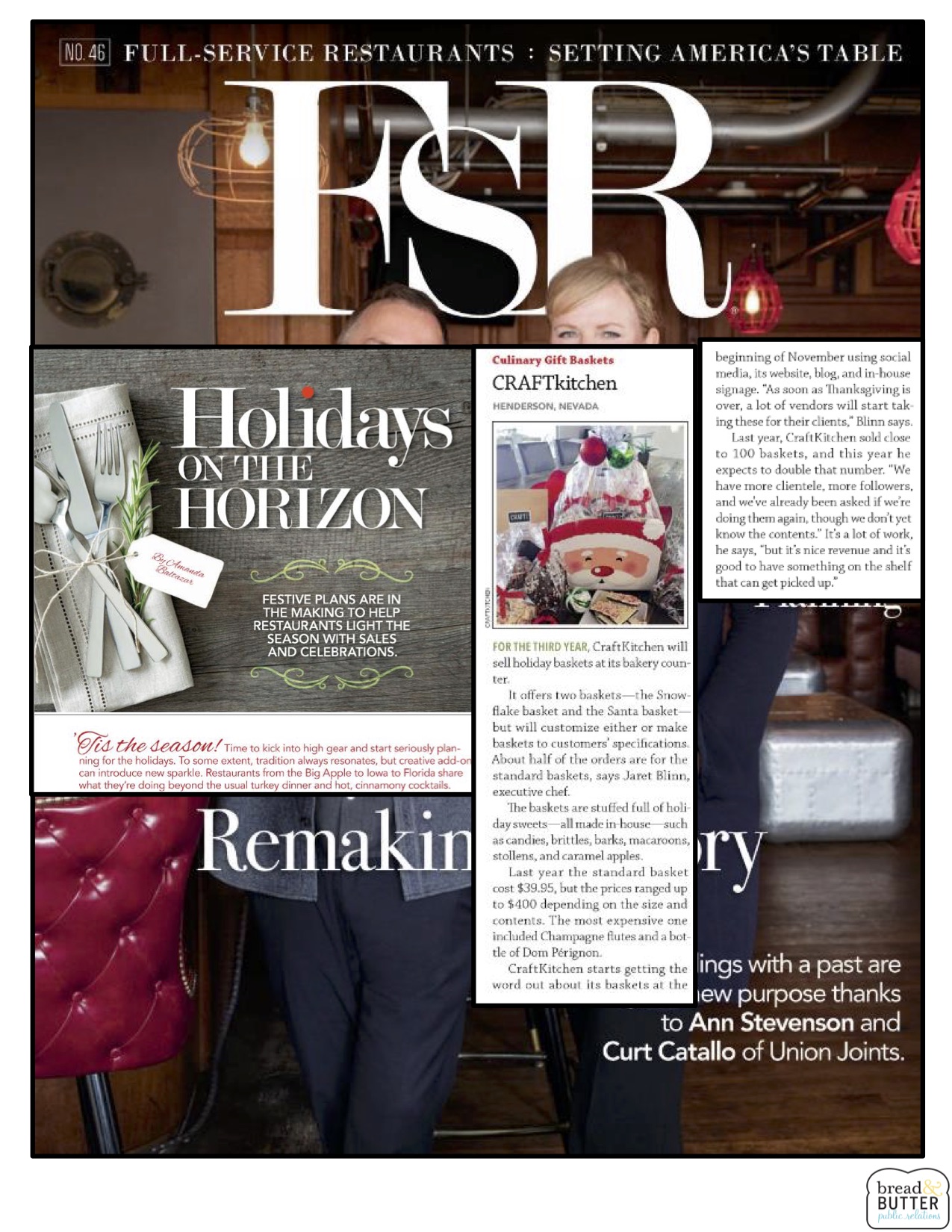 A Collection of clippings:
MEET THE CHEF
your new best foodie friend
While some kids grew up reading books, I grew up reading cook books. I learned to love life in the kitchen at a young age, cooking at home alongside my parents and grandparents.
I eventually made the hobby I loved a career, working as a chef for Ritz-Carltons in Maui, San Francisco and Las Vegas, before becoming the Executive Pastry Chef at Le Cirque and Circo at Bellagio and, eventually, at Red Rock Resort.
I always knew, though, that I wanted to do something different—I wanted to create a space where I was free to play with food and CRAFT up dishes that represented my family's creative take on dining. So, in 2015, I took a leap of faith, and, with the help of my beautiful family and amazing team, opened CRAFTkitchen here in Henderson.
My mission as a chef is three-fold: (1) To source only ingredients I would want to feed my family, (2) To create dishes that are full of energy and flavor, and (3) To provide a space where members of the community can come together over unforgettable food.
Come in and say hello. It's an honor to feed you and yours,
-Chef Jaret
FIND US
10940 S. Eastern Avenue, Suite 107
Henderson, NV 89052
Cross Streets: Eastern & Sunridge Heights
Special Hours Thurs, Aug 8: 7:30a-2:30p
Mon-Fri 7:30a–3p
Sa-Su 7a–3p
Closed Thanksgiving
Closed Christmas Day
PHONE US
(702) 728-5828
DROP US A LINE
Have a question for our Chef? No problem—send us a message. We'll get back to you as soon as we're out of the kitchen.